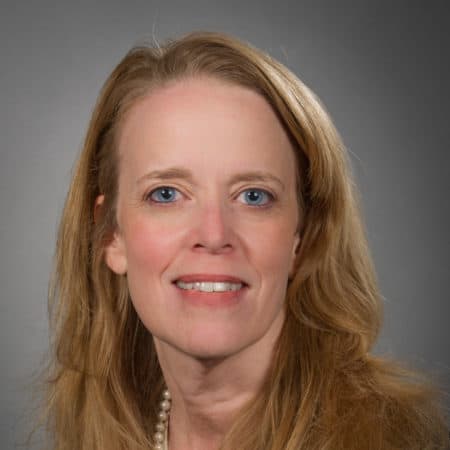 Joining Northwell Health in 2017, Deborah B. Gruber, MD brings with
her over 15 years of experience in the field of neuro-oncology. Dr. Gruber
completed her neurology residency at New York-Presbyterian/Weill Cornell
Medical Center and her neuro-oncology fellowship at New York University
School of Medicine. Dr. Gruber's practice focuses on primary brain tumors,
metastatic brain tumors, as well as the neurological complications of
systemic cancers. Her clinical interests are focused on advances in the
field of neuro-oncology; she is also particularly excited by developments
in immunotherapy and the promise it offers to her patients. Dr. Gruber is
attentive to the potential for molecular analysis to match the individual to
the best treatment.
Education MD – Mount Sinai School of Medicine
Residency Neurology – New York-Presbyterian/Weill Cornell Medical Center
Fellowship Neuro-Oncology – New York University School of Medicine
Board Certification Neurology – American Board of Psychiatry/Neurology
Professional Membership Society for Neuro-Oncology
Specialty Neurology
Clinical Focus
Management of Primary Brain Tumors
Metastatic Brain Tumors
Neurological Complications of Cancer
Leptomeningeal Disease
Hospital Affiliation
North Shore University Hospital, Lenox Hill Hospital, Long Island Jewish Medical Center, Staten Island University Hospital
Patient Office
Northwell Health Physician Partners Brain Tumor Center of the Neuroscience Institute,
Northwell Health Physician Partners Neurology at Lenox Hill
Publications Tam, M., Gruber, M., Gruber, D., Golfinos, Jr., Parker, E., Zagzag, D., Narayana,
A.: Phase 2 Trial of Temozolomide Plus Bevacizumab, Lithium, and Radiation Treatment for
Newly Diagnosed High-Grade Gliomas: Interim Analysis. International Journal of Radiation
Oncology Biology Physics, 2013; Narayana, A., Tam, M.M., Gruber, D.B., Golfinos, J., Parker,
E., Zagzag, D.,Gruber, M.L.: A Phase II Trial of Lithium, Bevacizumab, Temozolomide, and
Radiation for Newly Diagnosed Glioblastomas (GBM). Journal of Clinical Oncology, 2013;
Narayana, A., Kunnakkat, S.D., Medabalmi, P., Golfinos, J., Parker, E., Knopp, E., Zagzag,
D., Eagan, P., Gruber, D., Gruber, M.L.: Change in Pattern of Relapse After Antiangiogenic
Therapy in High-Grade Glioma. International Journal of Radiation Oncology Biology
Physics, 2012; Narayana, A., Perretta, D., Kunnakkat, S., Gruber, D., Golfinos, J., Parker, E.,
Medabalmi, P., Zagzag, D., Eagan, P., Gruber, M.: Invasion is not an Independent Prognostic
Factor in High-Grade Glioma. Journal of Cancer Research & Therapeutics, 2011; Kunnakkat,
S.D., Perretta, D., Medabalmi, P., Gruber, M.L., Gruber, D., Golfinos, J.,Parker, E., Narayana,
A.: Invasion is an Important Prognostic Factor in Newly Diagnosed High-Grade Gliomas.
Neuro-Oncology, 2010; Gruber, M.L., Raza, S., Gruber, D., Narayana, A.: Bevacizumab in
Combination with Radiotherapy Plus Concomitant and Adjuvant Temozolomide for Newly
Diagnosed Glioblastoma: Update Progression-Free Survival, Overall Survival, and Toxicity.
Journal of Clinical Oncology, 2009